Help Over 2000 Attendees to Kickstart Their Online Business at PJ Startup Festival
By Shao Kim · 27th June, 2022
16 July & 17 July 2022 - Last weekend, EasyStore joined PJ Startup Festival 2022 organized by ADN Kampung Tunku Lim Yi Wei and MBPJ Zone 6, 11, 13, 16, 19 and 20 councilors. It is supported by the PJ City Council (MBPJ), Sidec – Selangor Information Technology and Digital Economy Corporation (SIDEC) and venture capital (VC) partners.
The aim of PJ Startup Festival 2022 is to encourage the public, new startups, small and medium entrepreneurs, college students and other grassroots communities to start their own businesses by organizing a two-day event that features knowledge sharing and success stories.
Aside from that, the Jelajah Usahawan Digital Selangor 2022 program aims to educate Selangor's residents in various districts to the digital world while further offering support and encouragement to local businesses in Selangor who wish to kickstart in the eCommerce industry.
We are honored that SIDEC invited us to participate in this insightful event together with many brands to meet all kinds of business experts in order to exchange business ideas from different industries and different perspectives.
It was a pleasure to help about 300 aspiring entrepreneurs learn more about how to sell online easily and how to manage their orders, products, inventory, and customer information all from a single dashboard to save time and effort.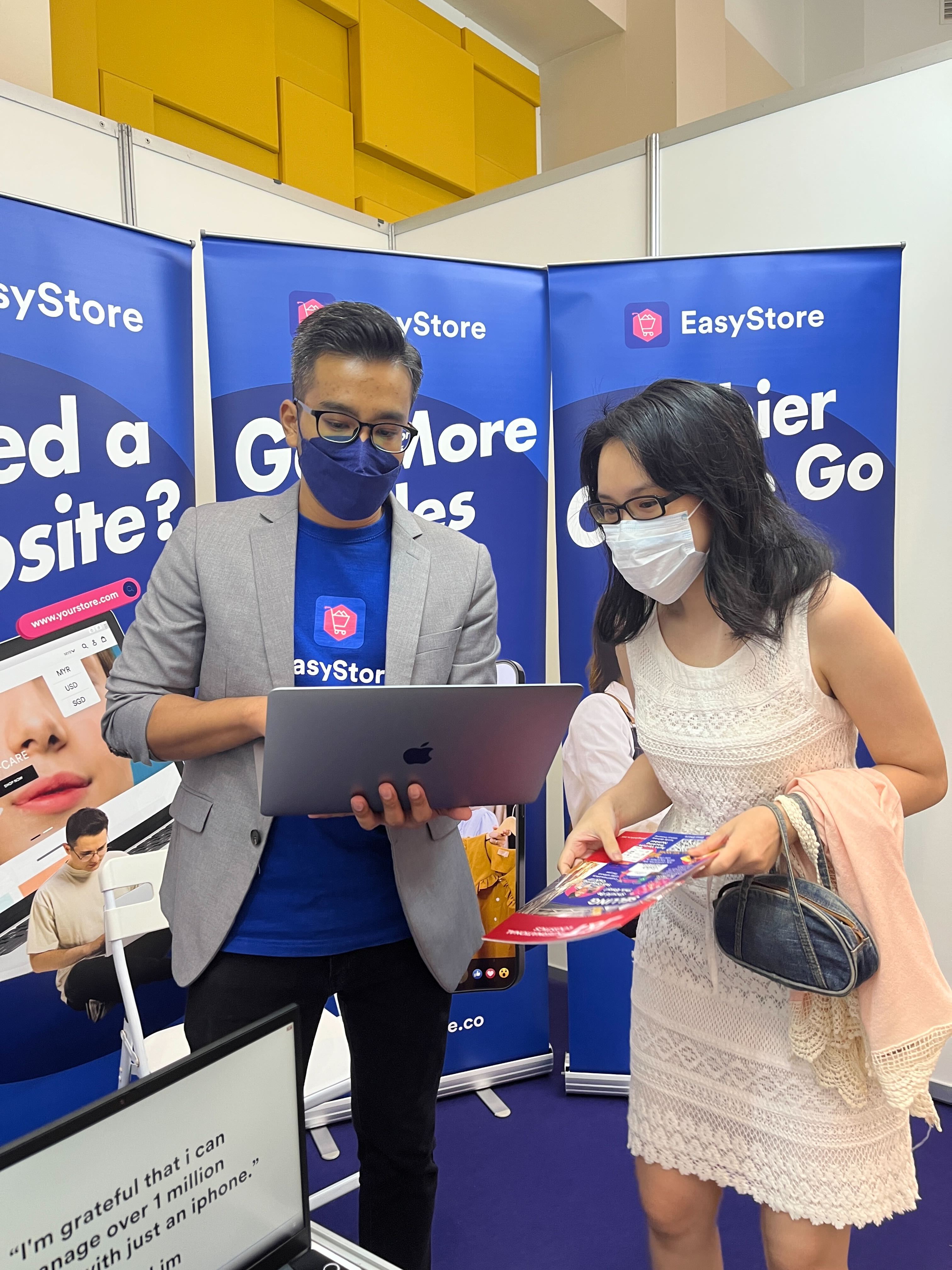 We perform a live demonstration to show how orders, products, inventory, customer information, and etc can all be managed from a dashboard. (Left - Amirul, Head of Marketing and Right - Visitors, exploring how to sell online)
Hope to provide valuable insights to those dropped by our booth to become successful digital entrepreneurs! Looking forward to assisting more entrepreneurs to enter the eCommerce world - sell online and manage their online business with ease.
Build an online store that sells for FREE.
https://www.easystore.co/en-my/features/online-store
Start selling with EasyStore
Sell and manage your business all in one place
Connect with our team
Let's begin your unified commerce journey. Complete the form to chat, book a meeting, or connect with our team.